Jeff Herring Finds a Niche in Article Marketing on the Internet
Though Jeff Herring had never thought of himself as a writer, he started writing a relationships column for a newspaper as a way to market his marriage counseling practice in 1994. The column was originally slated to run for just a year. Readers loved his column and it went into syndication. Soon Jeff started getting clients from all over the world. Some were telephone consultations and others were face-to-face meetings where people flew in to learn from him.
Jeff became interested in the Internet and then in public speaking. While living in Tallahassee he saw an ad for a National Speaker's Association convention to be held in Orlando and decided to go. Tom Antion was one of the speakers and Jeff joined Tom's mentee program after attending Tom's presentation.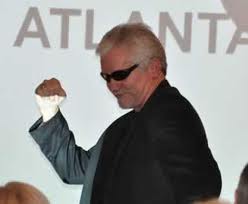 Jeff Herring at one of his many speaking engagements.
After listening to the possibilities Internet marketing offered, Jeff became carried away with visions of the many topics he could build into websites. It wasn't long before he found himself overworked and spread too thin. He turned to Tom for guidance and narrowed his niche to article marketing. In 2005, he launched his article-marketing website and things began to take off. As for niche marketing, he advises, pick a niche, go an inch wide and a mile deep. Choose something that you do very well that is a challenge for others to do. Where those two elements cross is the "product sweet spot," the place where you can make money.
Between 2006 and 2007, Jeff spent many hours driving between Tallahassee and Atlanta as he prepared to relocate from Florida to Georgia. During those long road trips, he listened to Tom's audios. He learned everything he could and implemented what he learned.
While Jeff was transitioning to Atlanta and living out of a hotel, he forgot to renew the ownership of his domain name. Much to his dismay, Jeff's domain name expired and someone purchased it, leaving Jeff in a panic. Watching his father agonize over the situation, Jeff's son suggested he call Tom. Jeff called and Tom's first words were, "Calm down." From there, he told him exactly what to do to reclaim his domain name. Following Tom's advice, Jeff sent an email to his client base explaining what had happened and that he needed to raise money to buy the domain back. Stressing that this was a great opportunity for his clients, he offered his mentee program at a substantial discount. His customers responded to the offer, thereby supplying the funds he needed to purchase his domain. Jeff says, "Tom was there in the middle of the night in the middle of a crisis and what was very bad turned out to be something cool."
Jeff, known as "The Internet Article Guy", specializes in article marketing. He teaches Internet marketers, authors, speakers and self-employed professionals to write and market their articles. Over the last few years, social networking has expanded Jeff's article marketing business. He now teaches people how to break down their articles for social marketing. He views social networking as just an outgrowth of article marketing
A few weeks ago, Jeff knew he had come full circle when he looked out over an audience waiting to hear him speak on writing content for the web. Seated among the audience members was one of his college professors — a professor who had told Jeff he couldn't write — coming to learn how to write from Jeff. Both the professor and the former student/writing expert enjoyed the significance of the moment.